Software Review:
Publisher: Adobe
Website: http://www.Adobe.com
Platform: Computer Platforms Supported
Description: Animated Graphics Program

MSRP:$799 new or $179 upgrade

Download Demo: Click Here
Samples: Click Here
Expected Release:Available Now
Review Date: June 1, 2011
Reviewed By: Mark Colegrove





Adobe After Effects has long been considered a must have for any type of 2D, and an ever increasing amount of 3D, graphics work. It's been called "Photoshop for video," which makes a lot of sense. How often do you find yourself in a situation where you need to fine tune your video, and Premiere or Final Cut just isn't cutting it?
AE CS5.5 default layout.
So for those familiar with previous versions, you'll find that not much has changed which can be considered good or bad depending on how you look at things.

Ease of Use
For those new to After Effects, it might seem intimidating at first. The basics are fairly easy to pickup, while complete mastery of the program could take some time. I've been using it for 10 years or so and still find myself watching YouTube tutorials every other day to learn new tricks. Apple's competing program, Motion, is likely a much easier program for the beginner, as it supplies many stock backgrounds and graphics, while the layout of After Effects is much less clunky and makes more sense for complex projects.

Integration with Adobe Premiere Pro is excellent. My favorite feature, which has been present in the last couple updates, is still the ability to render out an After Effects project in your Premiere time line via the Dynamic Link. This will save you tons of time. Additionally, you can also export an After Effects composition to Adobe Encore, helping you create some cool motion menus for your DVDs, where each layer has the potential to be a selectable button.

The CS5.5 update, much like the Premiere Pro update, has included many more native camera codecs, mostly for RED, allowing you to work with your footage, straight out of the camera, with no need to re-encode it.

Depth of Options
Given the built-in effects, and a seemingly endless supply of third party plug-ins, After Effects can help you with just about anything short of creating your own Jar-Jar Binks. New specifically to CS5.5 are the "Warp Stabilizer" & "Camera Lens Blur."

The Warp Stabilizer is an insanely easy to use effect that can help you achieve the look of a steadicam, and it works surprisingly well. Unlike the previous image stabilizer, which is still here by the way, "Warp Stabilizer" is applied like a regular plugin, and does not automatically create key frames in your composition. (More advanced users can toggle the "auto-magical" properties, however.) Here's a quick sample I rendered out using the default settings.
It might not be as apparent in YouTube quality, but the default stabilized image does have a significant resolution loss, but the end result is amazingly smooth. I would guess that if you shot something at 1080p, and exported at 720p after stabilization, it would be virtually unnoticeable. (Additionally, you can weigh the amount of stabilization vs. the amount of magnification in the more advanced options, to have higher resolution with a less powerful stabilization effect.)

The other new toy, "Camera Lens Blur" creates a simulation of an "in-camera depth of field" effect. Unfortunately, this isn't exactly the miracle effect it's made out to be.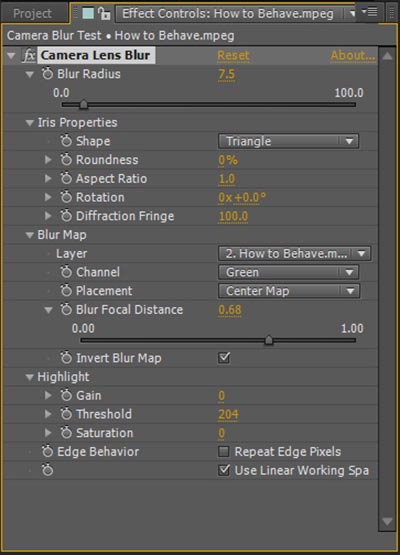 Camera Lens Blur Options.
There's a built in "Depth Matte" designed to automatically help you select portions of your image that are closer or further from the camera. Unfortunately, it's based off luminance or colors. You can see here in my test that I was able to defocus the trees in the background, and it worked pretty well keeping the white lab coat in focus since it's bright, but not as much for the actor's face.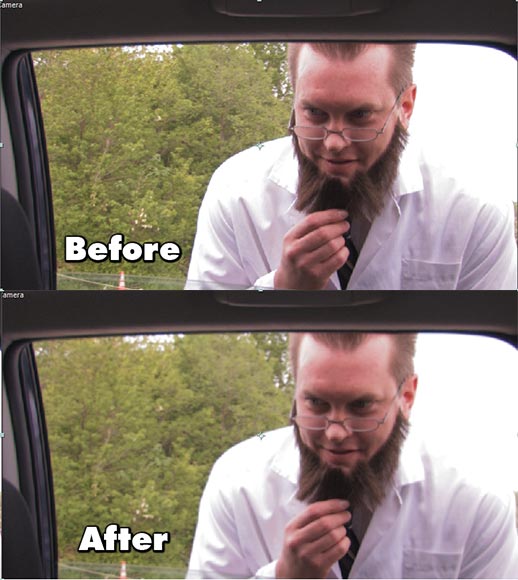 Camera Lens Blur, Image 2.
It would probably work much better if the background was a couple F-stops darker than our actor, but I think you'll have much more success overall simply doing all of this in-camera while you're shooting. You can't fix everything in post!

Performance
There's a reason After Effects is the reining champ in the motion graphics arena. It's a power-house program that's been honed and refined over the years. The previous CS5 update took full advantage of 64-bit architecture, vastly improving render times and overall performance. The new version includes a more powerful plugin sorting system that will allow you to create favorite plugins that you use all the time. Additionally, while the stability seemed comparable to CS5 on my Mac, I understand from our editor that the CS5.5 stability on PC systems seems to have improved.

There's plenty here that's appealing to the Micro-budget filmmakers, but this release seems geared a bit more to both the constant AE user and to high-end production. In more recent years it's been utilized in the production of Avatar, Social Network, and Iron Man 2.

In addition to all RED codecs being accounted for natively, CS5.5 features improved 3D functionality via Cineform Neo3D (a separate program which will set you back about $1000), allowing you to quickly stack your left and right cameras and preview a stereoscopic image.

Value
As with the rest of the programs in the half-release of Production Premium, the amount that's new here isn't as large as it will be when the jump to CS6 occurs. CS5 was pretty revolutionary at the time, taking the big leap from 32 to 64 bit.

Unless you're working with a lot of RED footage or are a power user, this really isn't a "must buy." Granted, Adobe has knocked down the price somewhat. An upgrade is only $179 as opposed to the usual $299 for the stand-alone version of After Effects.

Of course, if you're using CS4 or earlier, or plan on buying the entire "Production Premium" Suite (which is $399 to upgrade from CS4), the deal is a little more enticing, especially since more and more plugins have now been converted to CS5 compatible x64 bit.

Final Comments
While the Warp Stabilization is really amazing in and of itself, most of the features I often use were all in previous versions. I really would've loved it if the folks at Adobe had been able to pack in more in the way of improved text animations, 3D Text (eliminating the need for 3rd party software), and maybe even some more quick and dirty "stock" backgrounds and animations a la Apple's Motion to help out new users.

Still, After Effects remains my go-to program for fine-tuning a project, and it's integration with the rest of the Production Premium Suite is great (especially with increased stability with Adobe Media Encoder and Premiere Pro). It's a must for any editor looking to do more with animation.
| | |
| --- | --- |
| | |
| | 8.0 |
| | 10.0 |
| | 10.0 |
| Value vs. Cost | 8.0 |
| | 9.0 |
| | |
| --- | --- |
| | Mark Colegrove is the director of 2008's horror/comedy Isle of the Damned, which is self-distributed through his production company, Dire Wit Films. Based in Maryland, he currently produces video content for the National Aquarium and Merriweather Post Pavilion. |
Mission | Tips & Tricks | Equipment & Software Reviews | Film Critiques
Groups & Community | Links & Savings | Home