Software Review:
Publisher: Adobe
Website: http://www.adobe.com
Platform: PC and Mac
Description: Video Editing Software

MSRP: $799 ($299 Upgrade)

Special Discount: Click Here
Download Demo: Click Here
Samples: Click Here
Expected Release: Available Now
Review Date: July 1, 2010
Reviewed By: Mark Colegrove




Well Adobe Premiere Pro CS5 has arrived, and has really upped the ante on performance… blowing the competition out of the water. Like a lot of the other products in the CS5 line, the big deal is that Premiere Pro is now 64 bit only. Of course this means you'll need a 64 bit processor, and 64 bit version of Windows or Mac OS to run it. This may be a downside for some folks out there, but for others, it's the first non-linear editing software to really make use of your computer's full potential.

You'll notice the improved performance right away. The very first project I worked on using Premiere CS5 was an ultra corny music video, primarily on a green screen, and I took full advantage of the very awesome new "Ultra Key" effect, which incidentally is easily the best and easiest to use key effect built in to any standard editing software. It's very forgiving in how you've lit your green screen. Mine was a sheet that had tons of wrinkles in it, and with a few adjustments to the ultra key, that didn't really matter.
Ultra Key takes care of this uneven green screen with no problem.
So in addition to having a keyed subject, with a layer beneath it in the background, I added a layer of text with the lyrics, and a bouncing hot dog, which I animated in Premiere, to help folks keep up with the lyrics.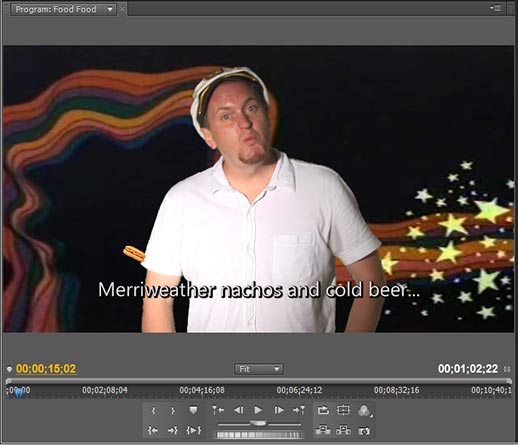 All four of these layers, including the bouncing hot dog, played back unrendered and in real time with no problem!
Everything played back, UNRENDERED, in real time. Amazing!

This is all made possible with Adobe's new Mercury Playback Engine. I was lucky enough to already have a NVIDIA GeForce card installed, as there are only a few graphics cards which this feature is optimized for, but it doesn't mean you won't be able to install CS5 without one of the supported cards. You can view a full list of the graphics cards that support on Adobe's site, and they claim they will be supporting more in the near future.
Mission | Tips & Tricks | Equipment & Software Reviews | Film Critiques
Groups & Community | Links & Savings | Home