Software Review:
Publisher: E-on Software
Website: http://www.e-onsoftware.com
Platform: Windows & Mac
Description: 3D natural environment creation
software

.

MSRP: $895

Download Demo: Click Here
Samples: Click Here
Expected Release: Available Now
Review Date: February 1, 2009
Reviewed By: Michael J. Muwanguzi



Working in 3D is very time-consuming. The creation of your assets, under normal circumstances, are very rigorous, as you mold your mesh into a suitable model, paint the texture, rig the skeleton, and then finally bring your character to life through animation. And that's only part of how you tell the story. Whether you're using 3D animated characters or need to fill a backdrop to a live action scene, sometimes the only way you can pull it off is if you create it yourself. This is where E-on Software's Vue 7 Infinite comes in, to give the ardent filmic storyteller a hand. With Vue 7 Infinite, the countless hours of having to construct a scene evaporate in lieu of the exhaustive options and tools made available for you to fashion your ideal natural setting.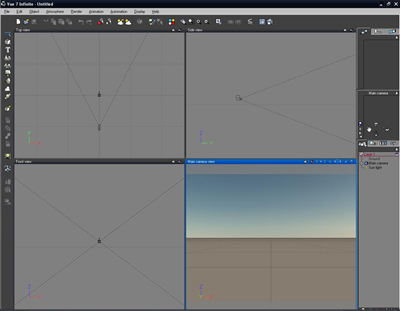 The clean layout of Vue 7 Infinite provides an ideal environment in which to create.
Vue 7 Infinite is a standalone 3D application that focuses primarily on creating natural environments that mimic a vast majority of the ecosystems in our world. With access to different eco-related terrain, vegetation, foliage, water, atmospheric phenomena, and the sun, you are able to weave together a sincere organic landscape. Sceneries that are imagined within Vue 7 possess all the randomness and seemingly incidental arrangements that makes nature "natural." But even with all the controls that are made available for you to make your scene feel lush and vibrant, the workflow and layout retains its simplicity and straightforward processes. This keeps the time down considerably while you experiment and tweak your work to perfection.

In this latest version of Vue 7, you will find a variety of enhancements as well as upgrades to the current technologies that have already been put in place. The most important aspects of the program, and their uses, were covered in our previous review of Vue 6 Infinite. In this article, I want to focus on what has been updated and how the changes will make using Vue 7 Infinite a more pleasurable experience.
The dope sheet displays the standard keyframe and timing curves that are prevalent in today's 3D animation programs.
Ease of Use
By and large, Vue 7 Infinite remains very user-friendly in terms of layout, tools, and options for modifying elements of your scene. The icons for the tools and objects are uncluttered and arranged neatly around the 4 viewports, allowing the user to quickly discern what they need and get straight to work. Holding down certain specified icons for a few seconds, then releasing your mouse button, will reveal further variances and options to that tool as well. Editors for related objects are easily accessible through their appropriate icon or simply double clicking on the object itself to have it pop-up in a separate window. The editors do contain a ton of options and can get a little confusing as you open one window after another, but after awhile, the myriad of controls start to make sense. That is a comfort to know that you can get your scene off the ground without knowing what all of them can do when you start out. So whether you've used Vue before, or are new to the program, this 3D application workflow remains logically intact.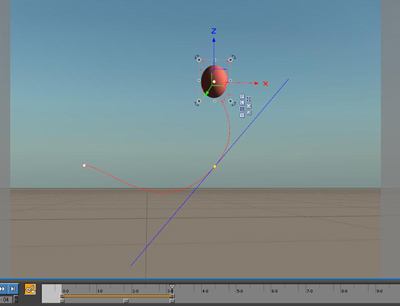 Precision curves within your scene allow you to tweak the position of your object with more ease.

One of the first things that you can set-up when starting a new project are the conditions for your atmosphere. Vue 7 Infinite now comes with over 160 presets to choose from. Using one as a starting point, you can modify the atmosphere model and its categories such as sun light, sky, wind, clouds, etc. And on the subject of clouds in particular, the Spectral model and Spectral Clouds II have been upgraded for better effect and higher fidelity. Cloud layers can now be utilized for spectral and MetaClouds to control the values of density, cover, illumination, and even its vertical positions. By strengthening the rendering algorithm for the spectral clouds, you will be able to create beautiful aerial vistas by combining layered clouds, custom shaped Metaclouds, and believable illumination that is both intricate and stunning.
Mission | Tips & Tricks | Equipment & Software Reviews | Film Critiques
Groups & Community | Links & Savings | Home